Pootie Tang
by Hannahrose
(Yuma AZ USA)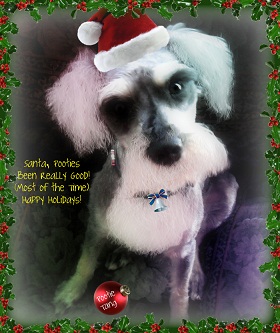 HAPPY HOLIDAYS FROM POOTIE!
Pootie Tang a 3 year old Mini-Schnauzer from Yuma AZ wishes you and your Family a very Happy Holiday Season. He'll be opening his presents as usual under the tree on Christmas morning, hopefully before he opens any of ours!
Join in and write your own page! It's easy to do. How? Simply click here to return to 2011 Schnauzer Dog Contest .