Free Dog Ecards

These
free dog ecards
were made especially for the Mini Schnauzer lover. Go ahead and brighten up someone's day with one of our very own Schnauzer cards. You won't find them anywhere else cause they were made right here on
Schnauzers Rule
, just for you... the Miniature Schnauzer lover! Arrooo!
SEE SOME EXAMPLES:
Friends and family will appreciate your thoughtfulness when they receive their online greeting in their inbox. And you can send as many dog greetings as you like, as often as you like, because they're all.....

FREE ..... FREE ..... FREE

Please note: Our Ecard system is currently down. We apologize for the inconvenience and hope to get it up and running soon.

Send Schnauzer Themed Ecards

Step 1: Which Ecard Would You Like To Send?
Click on a card to see the full size image

Encouragement

Get Well

Graduation

Inspiration

Friendship

Moving

Retirement

Travel

Thank You

Sorry

Schnauzers Rule

Love
Step 2: What message would you like to send?
Hit return key here-----------|
Step 3: Preview/Send the card

| | |
| --- | --- |
| From: | Your email address: |
| | |
| To: | Recipient's email address: |
| | |

I would like to send this card to more than one recipient

Send on a specific date
Leave today's date to send now
Tell me when my card is viewed:
Here's are just a few examples with personalized messages from the choices above:
Happy Retirement Printable Pet Card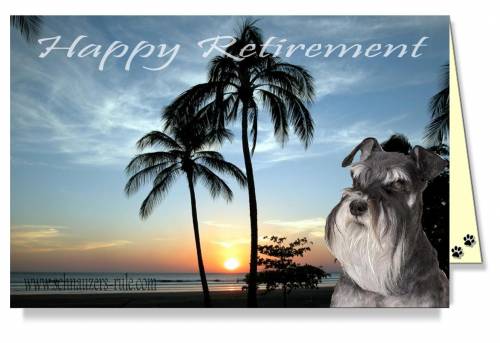 FROM: (Your Name)
TO: (Your Friend)

Congratulations Bill! I heard the news of your retirement and I'm so happy for you. You worked so hard during the past 30 years that perhaps now you will be able to relax a bit. Maybe you and Evelyn can make plans to go on one of those exotic trips you've been dreaming about for so long. Here's to you and the beginning of a very exciting time of your life. May the blessings and joy you have brought to so many, fill your life and family with happiness.

Warm wishes for a very HAPPY RETIREMENT ~ Peggy
Thank You Printable Pet Card
FROM: (Your Name)
TO: (Recipient's Name)

Thank you for making every day
a little bit brighter
by just being you.

Have A Happy Day!


Encouragement Printable Pet Card
FROM: (Your Name)
TO: (Recipient's Name)

Please don't sweat the small stuff
Just hang in there
and see it through

I believe in you.


Valentine's Day Printable Pet Card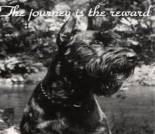 FROM: (Your Name)
TO: (Friend's Name)

May the journey of your life
be filled with fun, laughter,
and companionship.

I am so glad we're friends!


Printable Schnauzer Ecards - Our Schnauzer ecards are one-of-kind, super cute, and printable, too. So your email recipient will have the option to print a lasting reminder of your thoughtfulness.
"Knowledge Share"... If you enjoy our free dog ecards please share this page with your dog-loving friends by clicking on one of the share links (like facebook, twitter, and google +1) located at the top right or bottom of this page.

You can view even more cards for other special occasions by clicking on one of the related links below.
---
Go from Dog Ecards to About the Miniature Schnauzer on Schnauzers Rule
Go from Dog Ecards to Free Schnauzer Ecards
Related Topics:
★ Schnauzer Holiday eCards
★ Schnauzer Greeting eCards
★ Valentine's Day Thank You Card