Go Green with Your Dog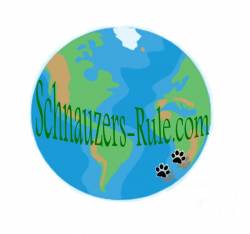 Want to go green with your dog? It's really easy to do and you'll feel good knowing you're doing your part to help save Mother Earth.
Each year on April 22, we celebrate Earth Day as people all over the world partake in activities to help improve our environment and heighten awareness of preserving our planet.
Through conservation, recycling, the use of eco-friendly products as well as practicing other earth friendly activities, it all adds up in the long run to help preserve this wonderful planet of ours.
To help you get those creative juices flowing on how you can celebrate the day, here are our Top 10 Pet Care Tips to Go Green with Your Dog!

10 Eco-Friendly Pet Care Tips
Use natural and chemical free pet products when cleaning and grooming your Miniature Schnauzer. (Free Sample of Earthbath Puppy Shampoo)
Make homemade dog toys or a homemade dog bed for your Miniature Schnauzer using recycled materials.
Bake up some natural dog treats for your Miniature Schnauzer.
Plant a tree in honor of your Miniature Schnauzer.
Create a dog scrapbook for your Mini Schnauzer. This is a fun activity for the whole family and your recycling materials at the same time!
If you haven't already, spay or neuter your Schnauzer!
Practice being a responsible dog owner!
Take your Mini Schnauzer to the dog park and enjoy the great outdoors and all Mother Earth has to offer.

Earthdog Adjustable Decorative Hemp Pet Collar
We can all reduce our carbon paw prints with just these few changes alone. So start buying
eco-friendly dog supplies
, begin feeding your Schnauzers
all natural dog food and treats
or prepare for them delicious
homemade dog food
, without all the added preservatives and other toxic chemicals that not only have negative effects on our pets but our planet, too.
And when it comes time to add another furry family member... choose to Adopt a Schnauzer!


Help save Mother Earth .... After all, it is the only planet with Miniature Schnauzers!
Search Schnauzers-Rule.com
Custom Search
---

Go from Go Green With Your Dog to About the Miniature Schnauzer on Schnauzers Rule
Go from Go Green With Your Dog to Organic Pet
Related Topics:
★ Homemade Dog Food
★ Homemade Dog Toys
★ Dog Crafts