Treating Dogs with Allergies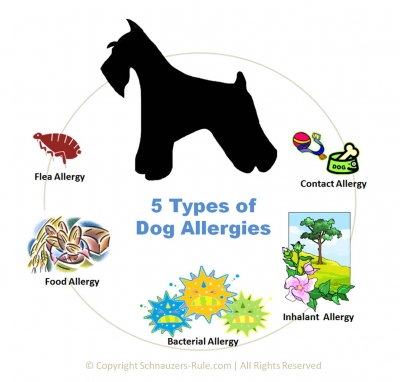 Types of Allergies in Dogs Dogs with allergies suffer with redness and inflammation, bald spots or hair loss, and are so itchy they spend the majority of their days licking, scratching, and chewing these areas of irritation. Not only are these poor dogs miserable, the constant gnawing and chewing of the skin can lead to even more problems and complications for your dog, like infections.
On the previous page, we discussed the types of dog allergies, now we want to take a closer look on dog allergy treatments and dog allergy remedies so we can help alleviate our pets suffering.
note: Finding a dog allergy cure.... Sometimes dog skin allergies with symptoms of itchiness and redness on your dog's body, ears, and feet could be caused by yeast problems or yeast overgrowth. Get further info about Yeast Infections in Dogs.
Natural Remedies for Dogs with Allergies

If your Miniature Schnauzer is suffering with dog allergies, getting your dog relief from the discomfort of itching, scratching, redness and sores is a probably a top priority for you.

Dr. Andrew Jones of The Online Vet offers these helpful non-steroid options for helping dogs with allergies.

Giving your Schnauzer an oatmeal shampoo with cool water will help ease even the itchiest skin. Leave the shampoo on for 10 minutes then rinse well. With the most severe allergies, bathe your dog twice weekly.

Soothe it Topically:
Calendula ointment is a herbal medication that has been successfully used to relieve the itch. Apply a thin coat twice daily to affected areas.

Antihistamines:
Benadryl is the most commonly used antihistamine. It is given at a dose of 1 mg per pound of body weight, 2-3 times a day. It is best to consult your veterinarian before using these medications. It often takes 14 days of using these to see if they are helping.

Antioxidants:
Vitamin E and Vitamin C may help: the Vitamin E dose is 100 IU per 10 lbs of body weight once daily; the Vitamin C dose is 100 mg per 10 lbs of body weight once daily.

Omega 3 Fatty Acids
Fatty Acid supplements are very helpful in decreasing the level of inflammation in dogs with allergies. Omega 3 fatty acids are most important along with the correct dosage.

You actually need 180mg of EPA per 10 lbs. To get these high levels here is a good rule of thumb: 1000mg of fish oil per 10 lbs daily.

Pure Salmon Oil provides a potent, highly digestible source of essential fatty acids and is loaded with the omega-3 fatty acids DHA and EPA!
Trial Offer 50% Off If you want an all natural complete dog supplement for your Miniature Schnauzer check out the Ultimate Canine Formula created by veterinarian Dr. Jones.

A strong advocate of Natural Pet Health Care, Dr. Jones created this supplement to provide our pets with everything they need to develop stronger immune systems to fight off disease.


Relief Solutions for Dogs with Allergies
| | | |
| --- | --- | --- |
| True Air Allergen-Reducing Air Cleaner | Natural Pet Herbal Aller-Free Formula | Only Natural Pet Itchy Skin & Allergy Kit |
| Natural Balance Limited Ingredient Allergy Formula | Instinct Grain-Free Limited Ingredient Diet for Allergies | Wysong Anergen Dry Dog Food |
| Wide Wale Corduroy Bed with Sustainafill™ an allergy free fiber | Pal Dog Soothing Spot Spray | Herbal Colloidal Oatmeal Shampoo |
| Only Natural Pet Pure Salmon Oil Supplement | PetAlive Clenzor Dog & Cat Herbal 50 ml | Dr. Jones' Ultimate Canine Health Formula |
"Knowledge Share"... If you found this article helpful and informative please share it with your dog-loving friends by clicking on one of the share links at the top right or bottom of this page.
---

Go from Dogs with Allergies to About the Miniature Schnauzer on Schnauzers Rule
Go from Dogs with Allergies to 5 Types of Dog Allergies
Related Topics:
★ Dog Health
★ Hypoallergenic Dogs
★ Miniature Schnauzer Health
★ Allergies or Yeast Infection in Dogs