December 21, 2010

Just sending out a short ezine to wish you all Seasons Greetings! We have a special card for you below!


---
2011 Here We Come
Schnauzers Rule wants to thank each and everyone of you for helping our site grow into the place to visit if you want to learn about Miniature Schnauzers. You inspire us daily with your ideas, stories, and photos.
We want to continue to provide you with quality information in our monthly newsletters as well, so we need your help. We would like to ask each of you to please fill out the Tips & Ideas Form to let us know what you would like to see in our newsletters.
If you like it the way it is - great! Just fill in the form and say so. But if you have any suggestions for upcoming issues, this is the time to let us know. We know everyone is busy and probably subscribes to lots of different ezines. It can be overwhelming when you receive so many every day. So we only send out 12 newsletters a year (once a month).
Currently we cover the following in our ezines:
Any important dog news or food recalls we learn about
Health Tips
Training Tips
Tributes to those who Crossed Rainbow Bridge
Schnauzer of the Month Winners
Treats & dog food recipes
Monthly pet events
Popular dog items
So if you would like more or less of one these topics or have any other suggestions, just fill in the Tips & Ideas Form.
---
Christmas Schnauzers
Be sure to share your Schnauzer Christmas Photos with us!
Can't wait to see your cutie!
★ ☆ ★ ☆
☆ ★ ☆ Your Schnauzers Rule Christmas Card ☆ ★ ☆
---
Schnauzer Tributes
Since our last newsletter, two more Tributes were written to honor the lives of beloved companions who crossed Rainbow Bridge. Please take a few moments to read these tributes and post a kind supportive remark to the owners who must miss their dog terribly.
We also have a Candle Lighting Page, Pet Loss Poems, & a list of Words of Sympathy & Encouragement you can use when sending a Miniature Schnauzer Sympathy e-card.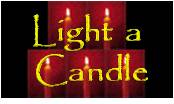 ---
2011 Miniature Schnauzer Calendar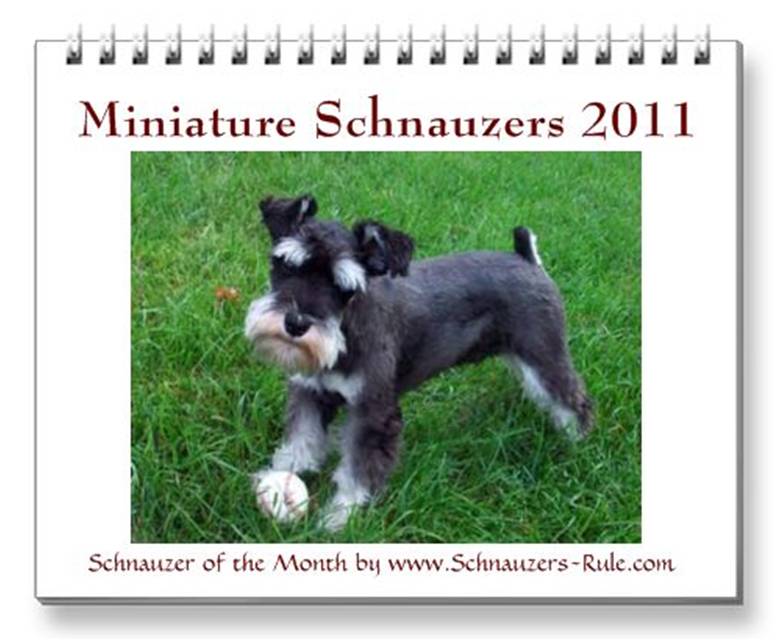 Don't forget to order a 2011 Miniature Schnauzer Calendar featuring all of our very own 'Schnauzer of the Month Winners'... Zeike • Zoey Mei Li • Velvet Birdee • Lucy-Belle • Max Elliot • Gumby • Maverick • Roody • Petey • Barksdale • Cali • Baggins
What a great Calendar of Miniature Schnauzers! Be sure to enter your Miniature Schnauzer in our Schnauzer of the Month contests for a chance to be in our calendar next year!
note: We're looking for great photos that are clear, uncluttered, with good lighting.... And previous winners are still eligible so be sure and re-enter! Learn how to take great photos of your dog.
Have a Schnauzer Christmas right down to the postage stamp!

Schnauzer Xmas Postage

Check out these top selling Schnauzer Christmas Gifts
And the most treasured gift of all....... quality time spent with you!

---
The Editor's Note
The Schnauzer Scoop brings you the latest information from the doggy world. Get The Scoop on pet food recalls, yummy dog recipes, Miniature Schnauzer contests, and more!
And if you have any dog-loving friends (even if they don't own Miniature Schnauzers) they will still benefit from all the dog tips, training lessons, dog safety warnings, and dog news. So be sure to forward this email over to them and let them have a sniff around.
If you are receiving The Schnauzer Scoop because a friend forward it to you - You can continue receiving it monthly by subscribing to it here:
Until next month... I hope you visit us often at Schnauzers Rule!
Arrooo!
Schnauzers-Rule.com - A complete owner's guide for the Miniature Schnauzer owner and dog enthusiasts alike. Got Schnauzer?
http://www.schnauzers-rule.com

---