Up-to-date info from the doggy world!
---
June 28, 2010
In this Issue
Fourth of July Reminders
PUP-sicles Recipe
What's in Your Schnauzer's Food Bowl?
Schnauzer Tributes: Jake & Abby
July Events
Schnauzer of the Month Contest Winner

and in every issue:

Free Dog eCards
Most PAW-pular Item of the Month
Miniature Schnauzer Rescue Stories
A Schnauzer Tribute
Schnauzer News Dog Blog
Become a Facebook Fan
---
July 4th Pet Safety Reminders
Independence Day is Monday week and beginning this weekend Fourth of July celebrations will be in full swing. For many of us this means participating in all sorts of fun outdoor activities and fireworks. But usually holidays aren't so much fun for our Miniature Schnauzers. So take a few moments to read our Fourth of July Pet Safety Tips as well as our Summer Care Tips for Dogs and have a safe & Happy Fourth of July!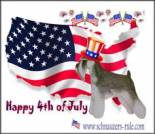 Happy Fourth of July

Be sure to send your family & friends a FREE Miniature Schnauzer Fourth of July ecard!
---
Fruity PUP-sicles
Ingredients:

1 ripe banana
1/2 cup of naturally sweetened apple juice
1 cup plain no-fat yogurt
1 tablespoon honey


Mix all ingredients together thoroughly. Then pour mixture into freezer trays. Freeze overnight. A yummy cool treat on a hot summer day, for your Miniature Schnauzer.



***If you have a homemade dog treat or dog food recipe you would like to share with us, we would love for you to do so: Dog Recipes by You



---
What's in Your Schnauzer's Food Bowl?
Remember the pet food recall of 2007? Hopefully we are all practicing healthy food choices for our Miniature Schnauzers now.
If you have recently acquired your Miniature Schnauzer or need some help in choosing a quality dog food, you can use our easy-to-follow guide: Dog Food Ingredients: Do's & Don'ts &nbsp &nbsp "How to determine the best dog food for your Miniature Schnauzer"
Another thing you might want to consider when purchasing dog food is to only buy from companies that do not test on animals. For example, Iams portrays such a wholesome image on its commercials right? but...
Iams inhumane practices continue to be well documented on such sites as www.peta.org and www.iamscruelty.com which both sponsor boycotts of Iams products.
If you are currently using Iams products, please watch this video. I bet you won't want to feed your Miniature Schnauzer Iams ever again.
Caution: Video is disturbing
Peta video of Iams Cruelty Scandal
---
Schnauzer Tributes
Since our last newsletter, A Schnauzer Tribute was written to honor the life of Miniature Schnauzer Jake & that of Miniature Schnauzer Abyy. Please take a few moments to read these tributes and post a kind supportive remark to the owners who must miss their Miniature Schnauzers terribly.
A Tribute to Miniature Schnauzer Jake
A Tribute to Miniature Schnauzer Abby
We have also added a Candle Lighting Page, Pet Loss Poems, & a list of Words of Sympathy & Encouragement you can use when sending a Miniature Schnauzer Sympathy ecard.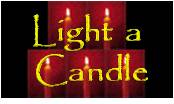 ---
July Events
July 4 - Fourth of July Independence Day Celebrations
July 31 Mutt Day - All dogs deserve a day in the spotlight. So whether you're a pure bred Mini Schnauzer or a mixed dog breed of some kind...this is your day to strut your stuff!

Arroooo!
---
MOST PAW-PULAR ITEM OF THE MONTH

Benefits of probiotic supplementation include: boosts the immune system, improves digestion, removes toxins, and more!
---
Schnauzer of the Month Winner
And the Winner is.......(drumroll pawlease)
Gumby
Congratulations to Gumby! Check him out on our home page!
Thanks to all the pups that entered. Every month the judges have such a hard time choosing just one winner. After all, we're all adorable!
So if you didn't win this month try again. You can send in the same photo or if you have another photo you think is better, send it in. Here's how:
Send your favorite Miniature Schnauzer photo for a chance at winning the title of Schnauzer of the Month along with your Schnauzer's photo featured prominently on the front page of Schnauzers Rule website, for thousands to see an Awww over!
Enter the July Schnauzer of the Month Contest
---
Be sure to forward this email to some of your pup pals!
And if you have a dog related website or a pup page out there in the World Wide Web be sure to link to us!

Copy and paste for 'text':


It will look like this:

Everything Miniature Schnauzer - Schnauzers Rule is a complete owner's guide for the Miniature Schnauzer lover and dog enthusiasts. Topics include dog grooming, obedience and trick training, housebreaking, Schnauzer contests, FREE dog eCards, and more! Schnauzers Rule - Got Schnauzer?


Copy and paste for 'banner':



---
On-Going
1. FREE dog eCards for you to send family and friends.
2. Miniature Schnauzer Rescue Stories: If you've rescued a Miniature Schnauzer please share your story & photos with us!
3. Miniature Schnauzer Tributes: Pay tribute to a loss family member. For they may be gone... but never forgotten.
4. Schanuer Gift Shop Breed specific gifts just for the Schnauzer lover!
5. Schnauzer News Dog Blog Subscribe to the blog so you never miss a thing!
6.Schnauzers Rule on Facebook For those of you on Facebook - Become a FAN and help spread the word that Schnauzers Rule!
---
The Editor's Note
The Schnauzer Scoop brings you the latest information from the doggy world. Get The Scoop on pet food recalls, yummy dog recipes, Miniature Schnauzer contests, and more!
And if you have any dog-loving friends (even if they don't own Miniature Schnauzers) they will still benefit from all the dog tips, training lessons, dog safety warnings, and dog news. So be sure to forward this email over to them and let them have a sniff around.
If you are receiving The Schnauzer Scoop because a friend forward it to you - You can continue receiving it monthly by subscribing to it here:
Until next month... I hope you visit us often at Schnauzers Rule!
Arrooo!
Schnauzers-Rule.com - A complete owner's guide for the Miniature Schnauzer owner and dog enthusiasts alike. Got Schnauzer?
http://www.schnauzers-rule.com

---
---