Fathers Day - June 20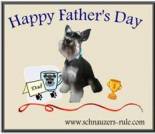 Be sure to send your Mini Schnauzer-loving Dad a Schnauzer Fathers Day eCard

And don't forget all those Graduates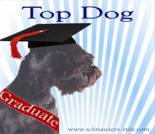 FREE e-Cards
---
MOST PAW-PULAR ITEM OF THE MONTH
FRONTLINE Plus is a fast and effective treatment-control of fleas and ticks. It stops and prevents infestations and kills adult fleas, flea eggs, and flea larvae. FRONTLINE Plus prevents all flea stages from developing. It kills fleas which may cause flea allergy dermatitis and it kills all stages of deer ticks (which may carry Lyme disease), brown dog ticks, American dog ticks, and lone star ticks. FRONTLINE Plus also prevents and controls reinfestations.
---
Schnauzer of the Month Winner
And the Winner is.......(drumroll pawlease)
Max Elliot
Congratulations to Max Elliot! Check him out on our home page!
Thanks to all the pups that entered. Every month the judges have such a hard time choosing just one winner. After all, we're all adorable!
So if you didn't win this month try again. You can send in the same photo or if you have another photo you think is better, send it in. Here's how:
Send your favorite Miniature Schnauzer photo for a chance at winning the title of Schnauzer of the Month along with your Schnauzer's photo featured prominently on the front page of Schnauzers Rule website, for thousands to see an Awww over!
Enter the June Schnauzer of the Month Contest
---
Be sure to forward this email to some of your pup pals!
And if you have a dog related website or a pup page out there in the World Wide Web be sure to link to us!

Copy and paste for 'text':


It will look like this:

Everything Miniature Schnauzer - Schnauzers Rule is a complete owner's guide for the Miniature Schnauzer lover and dog enthusiasts. Topics include dog grooming, obedience and trick training, housebreaking, Schnauzer contests, FREE dog eCards, and more! Schnauzers Rule - Got Schnauzer?


Copy and paste for 'banner':



---
On-Going
1. FREE dog eCards for you to send family and friends.
2. Miniature Schnauzer Rescue Stories: If you've rescued a Miniature Schnauzer please share your story & photos with us!
3. Miniature Schnauzer Tributes: Pay tribute to a loss family member. For they may be gone... but never forgotten.
4. Schanuer Gift Shop Breed specific gifts just for the Schnauzer lover!
5. Schnauzer News Dog Blog Subscribe to the blog so you never miss a thing!
6.Schnauzers Rule on Facebook For those of you on Facebook - Become a FAN and help spread the word that Schnauzers Rule!
---
The Editor's Note
The Schnauzer Scoop brings you the latest information from the doggy world. Get The Scoop on pet food recalls, yummy dog recipes, Miniature Schnauzer contests, and more!
And if you have any dog-loving friends (even if they don't own Miniature Schnauzers) they will still benefit from all the dog tips, training lessons, dog safety warnings, and dog news. So be sure to forward this email over to them and let them have a sniff around.
If you are receiving The Schnauzer Scoop because a friend forward it to you - You can continue receiving it monthly by subscribing to it here:
Until next month... I hope you visit us often at Schnauzers Rule!
Arrooo!
Schnauzers-Rule.com - A complete owner's guide for the Miniature Schnauzer owner and dog enthusiasts alike. Got Schnauzer?
http://www.schnauzers-rule.com

---
---