Up-to-date info from the doggy world!
---
April 28, 2010
In this Issue
Summer Safety for Your Schnauzer
New Schnauzer Ecards! Free 4U to send Family & Friends
Dog Food Quiz
Schnauzer Tributes: Mac & Noe'lle
May Events
Schnauzer of the Month Contest Winner

and in every issue:

Free Dog eCards
Most PAW-pular Item of the Month
Miniature Schnauzer Rescue Stories
A Schnauzer Tribute
Schnauzer News Dog Blog
Become a Facebook Fan
---
Top 10 Summer Safety Tips
Summertime is near and that means more outdoor fun and dangers! Take these extra precautions to keep your Schnauzer safe and cool this summer:
Be sure to keep your Schnauzer from coming into contact with toxic lawn chemicals. Wash your dog's paws off so he doesn't ingest any chemicals if he licks his paws.
Cocoa mulch is deadly. Cocoa mulch contains ingredients that could pose a health risk to dogs if ingested. And be sure to familiarize yourself with the poisonous plants to dogs.
Check those paws! Hot pavements can blister your Schnauzer's paws.
While enjoying your fruit salad be mindful of the foods that could be dangerous to your Schnauzer
Since your Schnauzer may be spending more time in your fenced in backyard, now would be a good time to walk the perimeter of your fence and check for any gaps or holes.
Check your Schanzuer's ID tag and make sure all the info is legible and accurate. Now is a good time to get a new pet tag that's easy to read, just in case your Schnauzer gets loose. And if your Schnauzer is microchipped, make sure the info is correct. Have your Vet scan your Schnauzer to be sure all your info is correct and the microchip
It's flea and tick season. Fleas can cause skin allergies and anemia, and ticks can transmit Lyme disease and Rocky Mountain spotted fever. With all the choices now available, including all natural flea and tick repellents, there's no reason your home or your Schnauzer should have to suffer with fleas!
Keep your Schnauzer well-groomed. A good clean, healthy coat will be able to do it's job more effectively to protect your Schnauzer from the sun.
Be sure to administer your Schnauzer heartworm preventatives. This is super important now that mosquito season is in full swing.
Learn First Aid for Dogs and keep accessible and fully stocked your Schnauzer's first aid kit for dogs.

Get more of our Summer Safety Tips - Click Here

AND ...........
---
New Schnauzer E-cards
We now have 36 FREE dog ecards for you to send family and friends.
And with Mother's Day coming up Sunday May 9th (hint, hint, hint)
You can check out all the greeting cards and holiday cards here: Free Schnauzer Dog ecards
Their are 12 FREE E-cards per the following links for a total of 36!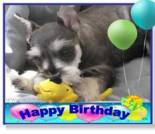 Lots of choices including:
Miss You, Friendship, Birthday, Pet Loss, Pet Birthday, and more!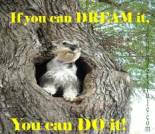 More greeting choices including:
Graduation, Inspiration, Good Luck, Encouragement, Moving, Retirement, Thank You and more!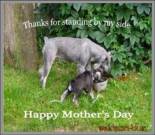 Holiday Ecards include:
New Years, July 4th, Mothers Day, Fathers Day, Halloween, Christmas, and more!



---
Dog Food Quiz
Do you know what foods are toxic to dogs? Test your knowledge by taking this fun True-False Dog Quiz and find out!
If you want to study up a bit first, you can review the bad foods for dogs list.
---
Schnauzer Tributes
Since our last newsletter, 2 more Schnauzer Tributes were written to honor the lives of these amazing dogs that bring so much joy and companionship to our day to day lives. Please take a few moments to read these tributes and post a kind, supportive remark to the owners who must miss their Miniature Schnauzers terribly.
A Tribute to Miniature Schnauzer Max
A Tribute to Miniature Schnauzer Noe'lle
---
May Events
National Pet Week - 1st week of May

National Pet Week promotes responsible pet ownership, celebrates the human-animal bond, and promotes public awareness of veterinary medicine.

Be Kind to Animals Week - 1st week of May A full week to commemorate the role animals play in our lives, by promoting ways to continue to treat them humanely, and encourage others, especially children, to do the same.
National Disabled Pets Day - May 3

This event began to help educate the public about the plight of disabled pets in shelters across the nation and encourages animal lovers to consider choosing a disabled pet when looking to bring home a new furry family member.

National Dog Bite Prevention Week May 13-19

This is a public service campaign that offers safety tips and emphasizes the need for increased 'Responsible Dog Ownership' in the prevention of dog bites.
Mother's Day is Sunday May 9
---
MOST PAW-PULAR ITEM OF THE MONTH
Looks like we have a couple of aggressive eaters out there.


Brake-fast dog food bowl is designed to prevent your Schnauzer from gulping down their food. The simple obstructions make aggressive eaters, eat more slowly.
Slower eating helps reduce the risk of Gastric Dilatation-Volvulus (GDV or 'Bloat') and makes an animal feel more full. Works great with kibble or canned food.
---
Schnauzer of the Month Winner
And the Winner is.......(drumroll pawlease)
Lucy-Belle
Congratulations to Lucy-Belle! Check her out on our home page!
Thanks to all the pups that entered. Every month the judges have such a hard time choosing just one winner. After all, we're all adorable!
So if you didn't win this month try again. You can send in the same photo or if you have another photo you think is better, send it in. Here's how:
Send your favorite Miniature Schnauzer photo for a chance at winning the title of Schnauzer of the Month along with your Schnauzer's photo featured prominently on the front page of Schnauzers Rule website, for thousands to see an Awww over!
Enter the May Schnauzer of the Month Contest
---
Be sure to forward this email to some of your pup pals!
And if you have a dog related website or a pup page out there in the World Wide Web be sure to link to us!
---
On-Going
1. FREE dog eCards for you to send family and friends.
2. Miniature Schnauzer Rescue Stories: If you've rescued a Miniature Schnauzer please share your story & photos with us!
3. Miniature Schnauzer Tributes: Pay tribute to a loss family member. For they may be gone... but never forgotten.
4. Schanuer Gift Shop Breed specific gifts just for the Schnauzer lover!
5. Schnauzer News Dog Blog Subscribe to the blog so you never miss a thing!
6.Schnauzers Rule on Facebook For those of you on Facebook - Become a FAN and help spread the word that Schnauzers Rule!
---
The Editor's Note
The Schnauzer Scoop brings you the latest information from the doggy world. Get The Scoop on pet food recalls, yummy dog recipes, Miniature Schnauzer contests, and more!
And if you have any dog-loving friends (even if they don't own Miniature Schnauzers) they will still benefit from all the dog tips, training lessons, dog safety warnings, and dog news. So be sure to forward this email over to them and let them have a sniff around.
If you are receiving The Schnauzer Scoop because a friend forward it to you - You can continue receiving it monthly by subscribing to it here:
Until next month... I hope you visit us often at Schnauzers Rule!
Arrooo!
Schnauzers-Rule.com - A complete owner's guide for the Miniature Schnauzer owner and dog enthusiasts alike. Got Schnauzer?
http://www.schnauzers-rule.com

---
---