Up-to-date info from the doggy world!
---
March 31, 2010
In this Issue
Dogs & Thunderstorms
Recipe: Schnauzers Rule Cheesy Delights! Arrooo!
Pet Tales
An Anniversary Nightmare
April Events
Schnauzer of the Month Contest Winner

and in every issue:

Free Dog eCards
Most PAW-pular Item of the Month
Miniature Schnauzer Rescue Stories
A Schnauzer Tribute
Schnauzer News Dog Blog
Become a Facebook Fan
---
Dogs & Thunderstorms
Is your Miniature Schnauzer afraid of thunderstorms? If the answer is yes, you know that fear can cause a dog to panic and become completely stressed. It makes for one unhappy dog.
Dogs with thunderstorm phobias usually display symptoms ranging from whining and hiding to destruction of property or even causing themselves physical harm. Animal behaviorists are not sure if dogs with storm phobias are reacting to the lightning flashes, the sound of thunder, or the sound of the rain itself. Some dogs even start to pace and whine a half an hour or more before a storm. Perhaps a reaction to the sudden drop in air pressure or the electrical charge of the air.
Whatever the reason, dogs fearful of thunderstorms are miserable but there are some things you can do to help calm your Miniature Schnauzer:
Tips and Home Remedies for Dogs Afraid of Thunderstorms



---
Schnauzers Rule Cheesy Delights
Here's another one of our very own yummy recipes just for you!
Ingredients:
1 cup instant oatmeal (quick oats)
1 egg
2/3 cup fat free cottage cheese
1/4 cup 100% grated parmesan-romano cheese
Preheat oven to 350 degrees. Whisk egg in a bowl and then add the remaining ingredients and mix well. Drop a teaspoon size of mixture onto a greased cookie sheet and bake for 15 minutes.
Your Miniature Schnauzer is going to go crazy for these Cheesy Delights! Since we only use regular human grade ingredients in our recipes, you can try one of them yourself and then you'll know why your Mini Schnauzer is so excited! Enjoy!
note: Store in a tightly sealed container or zip lock bag in the refrigerator or freezer.



---
Pet Tales
Schnauzers Rule But Our Friends Are Cool, too!
Do you have other pets in your home besides your Miniature Schnauzer? Maybe another dog breed? A cat? A bird? If so, we would love for you to share a photo and your story about them. Create a free pet page just for your other furry family members. Check it out!
More Great Dog Stories & Pet Tales from Around the World
And be sure to pass this info on to your pet loving friends so they can create a free pet page for their family pet, too!
Schnauzers Rule but our Friends are Cool, too!
Arrooo!


---
An Anniversary Nightmare
It was three years ago on the day of March 16 that the massive nationwide Pet Food Recall began which affected the lives of so many animals and the people who loved them.
Numerous reports of animals becoming sick and lethargic, developing kidney failure and dying could not be denied. This spurned the initial voluntary recall. Test results confirmed pet food contamination!
Consumers were infuriated. They had put their trust and their pet's lives in the pet food companies. The same pet food companies with the wonderful ads about how great and nutritious their dog food is.
What the hell was happening?
Chinese suppliers used wheat gluten and rice protein contaminated with melamine. Yes, we were feeding our pets food contaminated with melamine! By the end of March over 100 pet deaths were reported and over 3000 deaths by April. It was horrible!
Could it happen again? Absolutely! So please take the time to learn about feeding your Miniature Schnauzer the best dog food possible.
My heart aches for all those who lost a beloved pet and family member during this nightmare.
A Schnauzers Rule Tribute To all the beloved animals who died needlessly from eating tainted pet food, we have not forgotten you. We still shed tears for you and miss you terribly everyday. You blessed our lives and filled our homes with love and happy times. We will be forever thankful for the times we had together. Until the day comes when we are reunited once again, know that you still live in our hearts.


---
April Events
Prevent Animal Cruelty Month April 1-30

Unfortunately animal cruelty occurs way too often. For this reason, cruelty prevention is celebrated throughout the entire month of April. Learn to recognize the signs of animal cruelty and find out who you should contact if you witness any abuse on innocent animals. Animal cruelty should not be tolerated. Let's all take a stand from this moment forward and practice cruelty prevention for a life-time by reporting animal abusers!

April 4 – Easter Sunday. Have a very Happy Easter! Arrooo!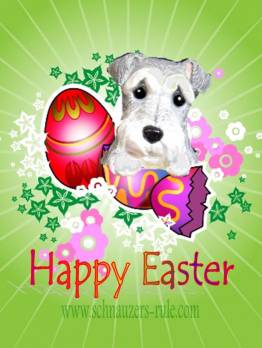 ---
MOST PAW-PULAR ITEM OF THE MONTH
Dr. Andrew Jones, DVM has been a practicing Veterinarian for almost 20 years. He is a strong advocate of Natural Pet Health Care, and knows that the most important way to heal our pets and prevent disease is through proper nutrition.
He developed Ultimate Canine to give our dogs that extra advantage. Something that will provide them with everything they need to develop stronger immune systems to fight disease, heal sores or stiff joints, and help them live longer, happier lives.


---
Schnauzer of the Month Winner
And the Winner is.......(drumroll pawlease)
Velvet Birdee
Congratulations to Velvet Birdee! Check her out on our site's front page! You can also read more about Velvet and post congrats to her, by visiting her page. (Click on the name above)
Thanks to all the pups that entered. Every month the judges have such a hard time choosing just one winner. After all, we're all adorable!
So if you didn't win this month try again. You can send in the same photo or if you have another photo you think is better, send it in. Here's how:
Send your favorite Miniature Schnauzer photo for a chance at winning the title of Schnauzer of the Month along with your Schnauzer's photo featured prominently on the front page of Schnauzers Rule website, for thousands to see an Awww over!
Enter the April Schnauzer of the Month Contest
Once again - Congratulations to our 'Schnauzer of the Month Winner', Velvet Birdee


---
Be sure to forward this email to some of your pup pals!
---
On-Going
1. FREE dog eCards for you to send family and friends.
2. Miniature Schnauzer Rescue Stories: If you've rescued a Miniature Schnauzer please share your story & photos with us!
3. Miniature Schnauzer Tributes: Pay tribute to a loss family member. For they may be gone... but never forgotten
4. Schnauzer News Dog Blog Subscribe to the blog so you never miss a thing! The Blog is the easy way to get all the additions and changes made to Schnauzers-Rule.com along with great dog stories, news breaking dog articles, great coupons and deals on the products you love and so much more!
5.Schnauzers Rule on Facebook For those of you on Facebook - Become a FAN and help spread the word that Schnauzers Rule!
---
The Editor's Note
The Schnauzer Scoop brings you the latest information from the doggy world. Get The Scoop on pet food recalls, yummy dog recipes, Miniature Schnauzer contests, and more!
And if you have any dog-loving friends (even if they don't own Miniature Schnauzers) they will still benefit from all the dog tips, training lessons, dog safety warnings, and dog news. So be sure to forward this email over to them and let them have a sniff around.
If you are receiving The Schnauzer Scoop because a friend forward it to you - You can continue receiving it monthly by subscribing to it here:
Until next month... I hope you visit us often at Schnauzers Rule!
Arrooo!
Schnauzers-Rule.com - A complete owner's guide for the Miniature Schnauzer owner and dog enthusiasts alike. Got Schnauzer?
http://www.schnauzers-rule.com

---
---