Summer Dangers for Outside Dogs
Featured Adoptable Schnauzer Niko
Happy Father's Day
Schnauzer Tributes
Schnauzer of the Month Winner
---
Hazards for Outside Dogs
Now that it's getting warmer most dogs will be spending more time outdoors, which unfortunately poses even more risks to them. Here are just a few hazards you should be aware of if you plan on leaving your Schnauzer outside. Please note: We would like to caution you not to leave your Miniature Schnauzer outside for too long.
Heat Strokes: Please review the warning signs of a heat stroke in dogs and be ready to act quickly. If you do leave your Schnauzer outside for any length of time, please be sure he has access to cool fresh water and shade at all times.
Pests: Always check you Schnauzer for ticks and fleas after time spent outdoors. And to further keep those and other insects off your Schnauzer try this natural homemade insect repellent for dogs.
Sunburn: Dogs too, are susceptible to sunburn... especially on their ear tips and noses. While you don't want to use your own sunscreen on your dog, here's a formula made specifically for dogs.
Check out our Top 6 Summer Care Products to help your dog cool.
And on a hot day who doesn't enjoy a cooling popsicle? Here's our own version for dogs that is super easy to make and your Mini Schnauzer will love: PuPsicles recipe.
Or try this cool product: Freezy Pups Kit - Frozen Treats for Dogs!
---
Adoptable Mini Schnauzer
In efforts to help Mini Schnauzer rescue organizations find loving forever homes for precious pups in need, we will begin featuring an adoptable Schnauzer each month. So many people think that rescue organizations just have severely abused, weak, and sick dogs but that is simply not the case. They have all types of dogs and puppies, too.
But not all rescues work the same way. What really makes one rescue group better than another is how they run their organization. So just do some homework. Check to see if the rescue has each animal examined by a licensed veterinarian and the dog is up-to-date on shots and tests negative for heartworms. Also, ask about the dog's background and what training and socializing they have received while in foster care. And finally, a good rescue will make sure the dogs are spayed or neutered before permanent placement, as well as take the dog back if necessary.
Meet Miniature Schnauzer Niko This week our featured Adoptable Mini Schnauzer comes from Miniature Schnauzer Rescue of North Texas.

Niko is a young, sweet, salt and pepper Schnauzer boy, just over 10 pounds. He loves to play and is super friendly. All Niko needs now is a forever home to call his very own. Could it be yours?

Miniature Schnauzer Niko


Click here to get more information
Be sure to share Niko's info with family and friends that are thinking about adding a dog to their family. Word of mouth is the best way to find homes for all the Mini Schnauzers in rescue. So send an email, post on facebook, and tweet about it!
Find a Mini Schnauzer Rescue Groups in your State.
---
Father's Day
Father's Day is Sunday June 17 and I know the Miniature Schnauzer(s) of your family will want to participate in saying thanks to Dad for everything he does for the family.
A Place Just For Dad
We may not shower him with praise
Nor mention his name in song,
And sometimes it seems that we forget
The joy he spreads along.

But it doesn't mean that we don't know
The wonderful role he's had.
And away down deep in every heart
There's a place that's just for Dad.
Dad, you're Top Dog around here!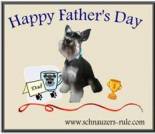 Don't forget to send your Dad our special Father's Day Dog Ecard (above) and check out these great Miniature Schnauzer Gifts for Dad, too.


---
MOST PAW-PULAR ITEM OF THE MONTH

Frontline products are highly recommended by veterinarians for flea and tick control for dogs. You only have to apply Frontline Plus once a month, so a 3-Dose supply will provide you with up to 3 months of convenient, highly effective flea, flea egg, chewing lice, and tick control.


---
Schnauzer Tributes
Since our last newsletter, 3 more Tributes were written to honor the lives of a beloved companion who crossed Rainbow bridge. Please take a few moments to read their Tributes and post a kind supportive remark to the owners who must miss their Miniature Schnauzers terribly.
---
Schnauzer of the Month Winner
And the Winner is.......(drumroll pawlease)
Gaby a Mini Schnauzer from Indonesia
Thanks to all the pups that submitted an entry. Every month the judges have such a hard time choosing just one winner because all Miniature Schnauzers are so adorable!
If you would like to enter your dog, submit your very best Miniature Schnauzer photo(s) along with a story for a chance at winning the title of Schnauzer of the Month with your Schnauzer's photo featured prominently on the front page of our website, for thousands to see an awe over! Please read official rules and guidelines.
Your Schnauzer's story must be a minimum of 150 words and you may enter up to 4 photos. The winning photo is selected based on the quality of the photo so it can be used in our yearly calendar.
Enter the 2012 Schnauzer of the Month Contest
note: If your Miniature Schnauzer is named Schnauzer of the Month, after our calendar is made (which is usually in September), he/or she will be included in the following year's calendar.
Good Luck!

---
Be sure to forward this email to some of your pup pals!
And if you have a dog related website or a pup page out there in the World Wide Web be sure to grab a free icon and link to us!


The Editor's Note
The Schnauzer Scoop comes out once a month to update our readers on new information added to the website along with alerts on pet food recalls, dog tips, and more.
If a friend emailed this issue to you and you would like to continue receiving our monthly ezine, click here to subscribe to The Schnauzer Scoop.

Until next month... I hope you visit us often at Schnauzers Rule!
Arrooo!
Schnauzers-Rule.com - A complete owner's guide for the Miniature Schnauzer owner and dog enthusiasts alike. Got Schnauzer?

---