Animal Disaster Preparedness
Happy Mother's Day
Schnauzer Tributes
Schnauzer of the Month Winner
---
Disaster Preparedness for Pet Owners
Animal Disaster Preparedness is the 2nd Saturday in May. It started as a way to bring awareness to pet owners the importance of having a plan and being prepared for when disaster strikes. Being prepared for the unexpected, is the responsible thing to do. Don't forget our Miniature Schnauzers rely on us to know what to do to keep them safe.
Do you have the necessary pet supplies ready to care for your dog? What plan do you have in place if disaster strikes and you are not at home? Who will rescue your Schnauzer?
The things you do now will better prepare you for the unexpected and the likelihood that you and your Miniature Schnauzer will survive an emergency situation.
Since the hurricane season is upon us, review the disaster plan for pets and print out the pet emergency checklist.


---
Mother's Day
Mother's Day is Sunday May 13 and I know the Miniature Schnauzer(s) of your family will want to participate in saying thank you to Mom.
You feed me when I'm hungry,
You keep water in my dish,
You let me sleep on anything
Or in any place I wish.

You sometimes let me lick your hands,
or even lick your face,
Despite the fact I've licked myself
In every private place.

You taught me how to come when called,
You taught me how to sit,
You always let me go outside,
So I can take a s--- stroll.

You'll always have my loyalty,
up to the bitter end,
'cause after all, it's plain to see...
You are a dog's best friend!
Happy Mother's Day!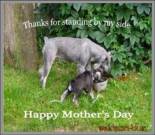 Don't forget to send your Mom our special Mother's Day Dog Ecard (above) and check out these great Miniature Schnauzer Gifts for Mom, too.


---
MOST PAW-PULAR ITEM OF THE MONTH

Schnauzers Garden Flags
Lots of different Mini Schnauzer garden flags to choose from including: USA themed flags, Beach Buddies, Spring Schnauzers, Winter Schnauzers, Pilgrim Schnauzers, Rainy Day Schnauzers, and more.
---
Schnauzer Tributes
Since our last newsletter, 1 more Tribute was written to honor the life of beloved companion who crossed Rainbow bridge. Please take a few moments to read the Tribute and post a kind supportive remark to the owners who must miss their Miniature Schnauzer terribly.
---
Schnauzer of the Month Winner
And the Winner is.......(drumroll pawlease)
Nike
Thanks to all the pups that submitted an entry. Every month the judges have such a hard time choosing just one winner because all Miniature Schnauzers are adorable! So if you didn't win this month try again. Here's how:
Send your favorite Miniature Schnauzer photo(s) along with a story for a chance at winning the title of Schnauzer of the Month with your Schnauzer's photo featured prominently on the front page of our website, for thousands to see an awe over!
Your Schnauzer's story must be a minimum of 150 words and you may enter up to 4 photos. The winning photo is selected based on the quality of the photo so it can be used in our yearly calendar.
Enter the 2012 Schnauzer of the Month Contest
note: If your Miniature Schnauzer is named Schnauzer of the Month, after our calendar is made (which is usually in September), he/or she will be included in the following year's calendar.
Good Luck!

---
Be sure to forward this email to some of your pup pals!
And if you have a dog related website or a pup page out there in the World Wide Web be sure to grab a free icon and link to us!


The Editor's Note
The Schnauzer Scoop comes out once a month to update our readers on new information added to the website along with alerts on pet food recalls, dog tips, and more.
If a friend emailed this issue to you and you would like to continue receiving our monthly ezine, click here to subscribe to The Schnauzer Scoop.

Until next month... I hope you visit us often at Schnauzers Rule!
Arrooo!
Schnauzers-Rule.com - A complete owner's guide for the Miniature Schnauzer owner and dog enthusiasts alike. Got Schnauzer?

---