Learn CPR for Pets
Halloween Safety Tips & Photos
Schnitzel Saves the Day
Schnauzer Tributes
Schnauzer of the Month Winner
---
Learn CPR for Dogs
It is so important that you learn the how to perform CPR on your Miniature Schnauzer. By practicing and knowing the steps, you will hopefully be able to remain calm and concentrate on the task at hand which could save your Schnauzer's life.
CPR for Dogs
Open your dog's mouth and inspect for any obstructions. Remove any obstruction to clear airway. If your dog does not begin breathing continue to the next step...
Extend neck and place your mouth around your dog's nose and mouth and gently blow 5 rescue breaths allowing the chest to expand and expel each time.
If your dog does not begin breathing continue to the next step...
With your Schnauzer lying on his right side begin compressions on the side of the rib cage. Compress the chest 15 times followed by 2 rescue breaths.
Continue alternating between chest compressions and rescue breaths until your Schnauzer responds and begins breathing on his own.
Click here for more detailed CPR Instructions for Pets
Watch this amazing video of a Dog Trainer performing CPR on a dog that collapsed during the training session.


---
Halloween Pet Safety
Halloween is just a few days away, so remember:
Be sure your Schnauzer is wearing ID with current info.
Keep all decorations out of your pets reach. Ingesting any parts of decorations could cause gastrointestinal upset or intestinal blockage in your dog.
Keep your Miniature Schnauzer indoors during the trick-or-treat hours.
If your Schnauzer is going to wear a costume make sure it is comfortable and not binding. If he is not comfortable wearing a costume, don't force him.
Never share your Halloween candy with your Schnauzer. Especially chocolate and sugar-free candy, both of which can be lethal to dogs, if ingested.
Get our complete Halloween Pet Safety List and have a fun and safe Halloween!
And don't forget to share your Schnauzer Halloween photos with us!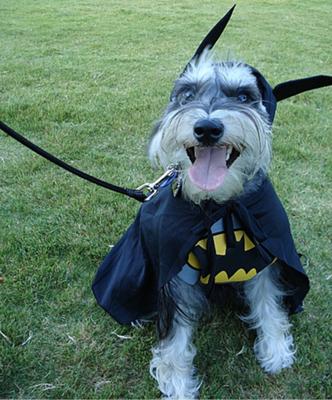 Miniature Schnauzer Fozzie as Batman!
---
Schnitzel Saves the Day
Jim, from Sierra Vista Arizona is thankful for his 3 year Miniature Schnauzer Schnitzel. It seems this little girl pup went into action when she noticed a rattlesnake slivering into the backyard of their family home.
Luckily Schnitzel somehow knew not to get too close to this ominous looking creature and was not bitten. Instead she just continued to bark until Jim came out to see what the fuss was all about. Schnitzel was alerting her owner that danger in the form of a Cochise rattlesnake was approaching. Jim immediately got Schnitzel inside and contacted the proper authorities to come out and remove the venomous snake.
Thank goodness no one was hurt or injured. Since then, Jim has had his yard snake-proofed so it never happens again and as for his brave little Mini Schnauzer Schnitzel... well, she continues to watch over her and protect her family.



Wikipedia Rattlesnake Info Interesting rattlesnake info: For anyone living or visiting areas like Cochise County in Arizona, note that rattlesnake season spans throughout early spring well into the summer months, seeing its height in May and June, which is the mating season.


If you have an interesting or funny short story about your Miniature Schnauzer that you would like to submit for a future issue of the Schnauzer Scoop, please submit it to us by filling out a contact form.
Thanks to Jim and to his brave little Mini Schnauzer, Schnitzel for sharing their story.


---
MOST PAW-PULAR ITEM OF THE MONTH
2012 Miniature Schnauzer Calendar featuring our Schnauzer of the Month winners! It's the best Mini Schnauzer Calendar on the market! Check it out:


---
Schnauzer Tributes
Since our last newsletter, two more Tributes were written to honor the lives of beloved companions who crossed Rainbow bridge. Please take a few moments to read these Tributes and post a kind supportive remark to the owners who must miss their Miniature Schnauzers terribly.
---
Schnauzer of the Month Winner
And the Winner is.......(drumroll pawlease)
Rosie, Sam, & Strider the Swimming Schnauzer Trio
Thanks to all the pups that submitted an entry. Every month the judges have such a hard time choosing just one winner because all Miniature Schnauzers are adorable! So if you didn't win this month try again. Here's how:
Send your favorite Miniature Schnauzer photo for a chance at winning the title of Schnauzer of the Month along with your Schnauzer's photo featured prominently on the front page of Schnauzers Rule website, for thousands to see an awe over!
Enter the Schnauzer of the Month Contest
note: You may submit multiple entries as long as the photos are all different (up to 4 photos per entry). We're looking for the best quality pictures so they can be used in our yearly calendar. Also, if your Miniature Schnauzer is named Schnauzer of the Month, after our calendar is made, he/or she will be part of the following year's calendar.
Good Luck!

---
Be sure to forward this email to some of your pup pals!
And if you have a dog related website or a pup page out there in the World Wide Web be sure to grab a free icon and link to us!


The Editor's Note
The Schnauzer Scoop brings you the latest information from the doggy world. Get The Scoop on pet food recalls, yummy dog recipes, Miniature Schnauzer contests, and more!
And if you have any dog-loving friends forward this email over to them and let them have a sniff around. note: If a friend emailed this copy to you and you would like to continue receiving our monthly ezine, click here to subscribe to The Schnauzer Scoop.

Until next month... I hope you visit us often at Schnauzers Rule!
Arrooo!
Schnauzers-Rule.com - A complete owner's guide for the Miniature Schnauzer owner and dog enthusiasts alike. Got Schnauzer?

---