Schnauzer News
Heat Stroke in Dogs
Fourth of July Dog Tips
Frontline Plus
Schnauzer Tributes
Schnauzer of the Month Winner
---
Heat Stroke in Dogs
It's officially Summer and baby it's hot outside! Veterinarians all over the U.S. are warning dog owners to take the proper steps in heat stroke prevention this year.
We too are on this mission and want all our furry friends to be safe during the Dog Days of Summer. Please take a few moments to read our article on Heat Strokes in Dogs: The Causes, Early Warning Signs, Treatment, & Prevention of heat strokes in dogs.

Be sure to share this valuable pet-saving info with others, too. It's easy to do. After you finish reading the article, scroll towards the bottom of the page and look for: Share this page? here's where you can easily share the info via your facebook or twitter account. Or if you prefer, share the page with others by linking to it using the html code. It's all ready for you to copy and paste.

note: Miniature Schnauzers do not tolerate the heat well. So be sure take all the extra precautions when going outside with your Mini Schnauzer.


---
Fourth of July Pet Precautions
With the Fourth of July being celebrated this weekend, we thought a few more dog safety reminders were in order:
Dogs should wear their collar and Id tags
Leave pets at home (and indoors)
Consult Vet about calming aids, if necessary
If you do take your dog with you, be sure to watch for the signs of a heat stroke (as mentioned above) sunburn, insects, harmful foods, and firework dangers.
Click here to get all of our Fourth of July Dog Tips.
Oh and don't forget to send family and friend A Schnauzer Fourth of July Ecard! It's Free!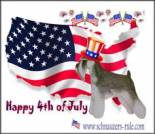 ---
MOST PAW-PULAR ITEM OF THE MONTH
There's been a lot of talk about Frontline Plus losing it's patent and some generic brands popping up offering the same ingredients for less money. In a recent news release however, it stated:
Duluth, Ga., June 14, 2011 - Merial, a leading animal health pharmaceutical company, announced today the United States Patent and Trademark Office (USPTO) reconfirmed the patentability of formulation claims covering Merial's FRONTLINE® Plus, the No. 1 flea and tick control product.
Merial is also pursuing litigation against other manufacturers in cases where it believes its patents have been violated.

Read entire New Release: Frontline® Patent Reconfirmed News Release


We found the best price on Frontline plus at Entirely Pets


Frontline Plus Flea & Tick
---
Schnauzer Tributes
Since our last newsletter, so many Tributes were written to honor the lives of beloved companions who crossed Rainbow bridge. Please take a few moments to read these Tributes and post a kind supportive remark to the owners who must miss their Miniature Schnauzers terribly.
---
Schnauzer of the Month Winner
And the Winner is.......(drumroll pawlease)
Lyncoln
Thanks to all the pups that submitted an entry. Every month the judges have such a hard time choosing just one winner because all Miniature Schnauzers are adorable! So if you didn't win this month try again. Here's how:
Send your favorite Miniature Schnauzer photo for a chance at winning the title of Schnauzer of the Month along with your Schnauzer's photo featured prominently on the front page of Schnauzers Rule website, for thousands to see an awe over!
Enter the Schnauzer of the Month Contest
note: You may submit multiple entries as long as the photos are all different (up to 4 photos per entry). We're looking for the best quality pictures so they can be used in our yearly calendar.
Good Luck!

---
Be sure to forward this email to some of your pup pals!
And if you have a dog related website or a pup page out there in the World Wide Web be sure to grab a free icon and link to us!


The Editor's Note
The Schnauzer Scoop brings you the latest information from the doggy world. Get The Scoop on pet food recalls, yummy dog recipes, Miniature Schnauzer contests, and more!
And if you have any dog-loving friends forward this email over to them and let them have a sniff around. note: If a friend emailed this copy to you and you would like to continue receiving our monthly ezine, click here to subscribe to The Schnauzer Scoop.

Until next month... I hope you visit us often at Schnauzers Rule!
Arrooo!
Schnauzers-Rule.com - A complete owner's guide for the Miniature Schnauzer owner and dog enthusiasts alike. Got Schnauzer?

---