Schnauzer News
Summer Care Tips
Homemade Frosty Paws
Schnauzer Tributes
Father's Day
Schnauzer of the Month Winner
---
Summer Pet Care Tips
Summer is finally here and that means lots of outdoor fun for everyone. So since we'll be spending more time outside let's review some practical tips to help our Miniature Schnauzers enjoy the season.
No Fleas Please: If your Schnauzer is not on year-round flea and tick preventatives, now is the time to start using them. There are lots of treatment choices from topicals, shampoos, sprays, collars, etc.. Consult with your Veterinarian on the best choice for your Miniature Schnauzer.
Prevent Heartworms: With the warm weather, also comes the mosquitoes. Be sure your Mini Schnauzer takes his preventative heartworm treatment, as recommended by your Vet.
First Aid Ready: Now is a good time to make a dog first aid kit or update your current one. And to help you better handle an emergency care check out the Dog Owner's Home Veterinary Handbook
---
Frosty Paws
Everyone loves a frozen treat to help beat the summer heat, even our Schnauzers. Next time try this yummy version of the popular Frosty Paws treat. Using these fresh ingredients make it a healthier treat for your dog.
Frosty Paws Home Recipe
1 banana
1 cup plain non-fat yogurt
1 Tbsp unsalted peanut butter
1 Tbsp water
Blend all ingredients together thoroughly. Then pour mixture into freezer trays or use small paper cups. Freeze overnight before serving. These make a cool and yummy treat on a hot summer day for your Miniature Schnauzer to enjoy.
If you have a great homemade dog treat recipe your Miniature Schnauzer loves please share it with us: Your Homemade Dog Treat Recipes


---
MOST PAW-PULAR ITEM OF THE MONTH


John Miller's 245 Homemade Healthy Recipes In this best-selling ebook, Dr. Miller shares with you his secret homemade dog food recipes that that will have your Miniature Schnauzer dog feeling healthier and happier.



Father's Day June 19

Don't forget to send all those Schnauzer loving dads a free
Schnauzer Dog E-card this year!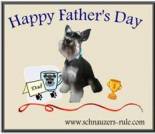 ---
Schnauzer Tributes
Since our last newsletter, a Tribute was written to honor the life of a beloved companion who crossed Rainbow bridge. Please take a few moments to read this tribute to Miniature Schnauzers Sally and post a kind supportive remark to the owners who must miss her terribly.
---
Schnauzer of the Month Winner
And the Winner is.......(drumroll pawlease)
Cosmo
Thanks to all the pups that submitted an entry. Every month the judges have such a hard time choosing just one winner because all Miniature Schnauzers are adorable! So if you didn't win this month try again. Here's how:
Send your favorite Miniature Schnauzer photo for a chance at winning the title of Schnauzer of the Month along with your Schnauzer's photo featured prominently on the front page of Schnauzers Rule website, for thousands to see an awe over!
Enter the Schnauzer of the Month Contest
note: You may submit multiple entries as long as the photos are all different (up to 4 photos per entry). We're looking for the best quality pictures so they can be used in our yearly calendar.
Good Luck!

---
Be sure to forward this email to some of your pup pals!
And if you have a dog related website or a pup page out there in the World Wide Web be sure to grab a free icon and link to us!


The Editor's Note
The Schnauzer Scoop brings you the latest information from the doggy world. Get The Scoop on pet food recalls, yummy dog recipes, Miniature Schnauzer contests, and more!
And if you have any dog-loving friends forward this email over to them and let them have a sniff around. note: If a friend emailed this copy to you and you would like to continue receiving our monthly ezine, click here to subscribe to The Schnauzer Scoop.

Until next month... I hope you visit us often at Schnauzers Rule!
Arrooo!
Schnauzers-Rule.com - A complete owner's guide for the Miniature Schnauzer owner and dog enthusiasts alike. Got Schnauzer?

---