Up-to-date info from the doggy world!
---
December 1, 2010
In this Issue
Holiday Safety Tips
Santa Paws Cookies
Holiday Schnauzers
Schnauzer Tributes: Sadie
December Events
Most PAW-pular Item of the Month
Schnauzer of the Month Contest Winner
---
Holiday Safety Tips
The Holidays are here! Wow, they seem to get here faster every year. I want to take this time to highlight just a few holiday safety tips:
Food & Plants: Be sure to review the dangerous foods and plants to dogs.
Electric cords & decorations: These always pose a threat and could cause a trip to the emergency room.
Garbage: Be sure there is no way for your Schnauzer to get into the garbage.
Guests: Be sure to inform your guests about the house rules. Let them know ahead of time about feeding, handling, children interaction, etc... with your Schnauzer.
Click here to review all our Holiday Safety Tips for Dogs


---
Santa Paws Cookies
Delicious Holiday Cookies for Your Miniature Schnauzer
Pumpkin Cookies preheat oven to 350 degrees
1/2 can real pumpkin
2 cups quick oats
1/4 cup water
1 tsp cinnamon
2 Tbsp honey
Mix all the ingredients in a bowl thoroughly. Use a nonstick cooking spray to lightly grease a cookie sheet. Drop by a rounded tablespoon and then flatten out a bit. Bake at 350 for 12 minutes. Let cool before serving. Store in a zip-lock bag in your refrigerator or freezer.

---
Christmas Schnauzers
Calling all Holiday Schnauzers! Did you take a great picture of your Schnauzer all dressed up for the Holidays? If so, we would love for you to share it with us.
Post your Schnauzer Christmas Photos Here!
Can't wait to see your cutie!
★ ☆ ★ ☆
☆ ★ ☆ Schnauzers Rule Christmas Quote ☆ ★ ☆

"Christmas Day is one of the best days ever. I mean, what other day of the year do you get to tear apart paper and help the humans mess up the the living room floor. Arrooo!"
~Schnauzers-Rule.com
---
Schnauzer Tributes
Since our last newsletter, a Tribute was written to honor the life of a beloved companion who crossed Rainbow bridge. Please take a few moments to read this tribute and post a kind supportive remark to the owners who must miss their dog terribly.
We also have a Candle Lighting Page, Pet Loss Poems, & a list of Words of Sympathy & Encouragement you can use when sending a Miniature Schnauzer Sympathy e-card.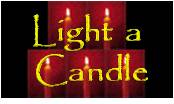 ---
December Events
---
MOST PAW-PULAR ITEM OF THE MONTH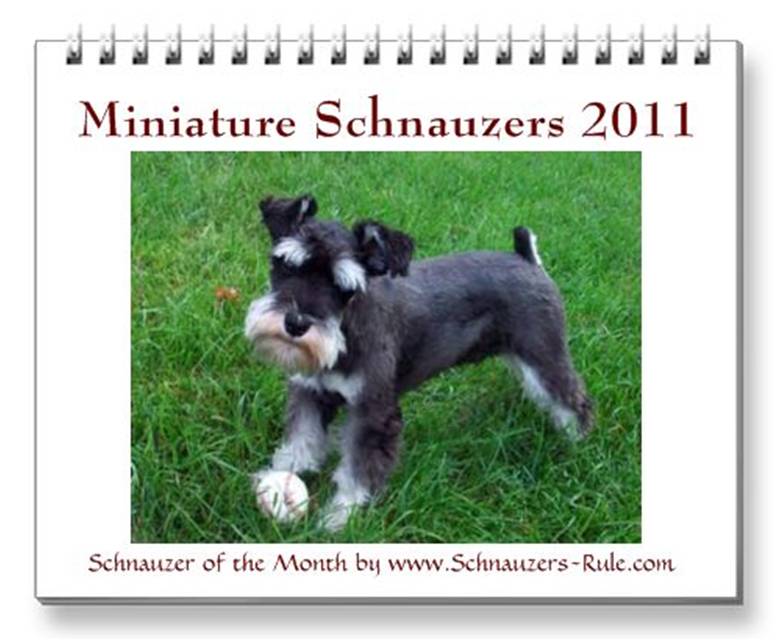 2011 Miniature Schnauzer Calendar Featuring all of our very own 'Schnauzer of the Month Winners'... Zeike • Zoey Mei Li • Velvet Birdee • Lucy-Belle • Max Elliot • Gumby • Maverick • Roody • Petey • Barksdale • Cali • Baggins
Congrats to all our winners. What a great Calendar of Schnauzers! Be sure to enter your Miniature Schnauzer in our monthly contests for a chance to be in our calendar next year!
note: We're looking for great photos that are clear, uncluttered, with good lighting.... And previous winners are still eligible so be sure and re-enter! Learn how to take great photos of your dog.
Have a Schnauzer Christmas right down to the postage stamp!

Schnauzer Xmas Postage

Check out these top selling Schnauzer Christmas Gifts
And the most treasured gift of all....... quality time spent with you!

---
Schnauzer of the Month Winner
And the Winner is.......(drumroll pawlease)
Jasper
Congratulations to Jasper! Check him out on our home page!
Thanks to all the pups that entered. Every month the judges have such a hard time choosing just one winner. After all, we're all adorable!
So if you didn't win this month try again. You can send in the same photo or if you have another photo you think is better, send it in. Here's how:
Send your favorite Miniature Schnauzer photo for a chance at winning the title of Schnauzer of the Month along with your Schnauzer's photo featured prominently on the front page of Schnauzers Rule website, for thousands to see an Awww over!
Enter the December Schnauzer of the Month Contest
---
Be sure to forward this email to some of your pup pals!
And if you have a dog related website or a pup page out there in the World Wide Web be sure to link to us!

Copy and paste for 'text':


It will look like this:

Everything Miniature Schnauzer - Schnauzers Rule is a complete owner's guide for the Miniature Schnauzer lover and dog enthusiasts. Topics include dog grooming, obedience and trick training, housebreaking, Schnauzer contests, FREE dog eCards, and more! Schnauzers Rule - Got Schnauzer?



Copy and paste for 'banner':




It will look like this:


The most complete Miniature Schnauzer information and care guide online. Schnauzers Rule!



---
On-Going
---
The Editor's Note
The Schnauzer Scoop brings you the latest information from the doggy world. Get The Scoop on pet food recalls, yummy dog recipes, Miniature Schnauzer contests, and more!
And if you have any dog-loving friends (even if they don't own Miniature Schnauzers) they will still benefit from all the dog tips, training lessons, dog safety warnings, and dog news. So be sure to forward this email over to them and let them have a sniff around.
If you are receiving The Schnauzer Scoop because a friend forward it to you - You can continue receiving it monthly by subscribing to it here:
Until next month... I hope you visit us often at Schnauzers Rule!
Arrooo!
Schnauzers-Rule.com - A complete owner's guide for the Miniature Schnauzer owner and dog enthusiasts alike. Got Schnauzer?
http://www.schnauzers-rule.com

---