Up-to-date info from the doggy world!
---
October 30, 2010
In this Issue
Collar Safety Tips
Schnauz O Lantern
Halloween Schnauzers
Schnauzer Tributes: Boone Cozart
November Events
Most PAW-pular Item of the Month
Schnauzer of the Month Contest Winner
---
Collar Safety Tips
A terrible, terrible incident happened at a grooming salon in Georgia. Jesse, an adorable Miniature Schnauzer died by strangulation. You can read his story here: Schnauzer Dies at Grooming Salon.
The KeepSafe Break-Away Collar
is the only collar that has a patented safety buckle that is designed to protect dogs from collar accidents AND it can be used securely with a leash. This collar protects the dog from strangulation. If a dog becomes entangled with an object or even with another dog, the buckle releases to set the dog free.
Check out this great collar that could save your dog's life!
Other Collar Safety tips:
Never restrain your dog by his collar and leash on any raised area; be it a deck, table, balcony, bed of truck, etc..
Remove your pet's collar while playing with another animal in the privacy of your fenced in backyard. Dogs at play can easily become entangled causing them harm or death by strangulation.
Check your dog's collar regularly for proper fit.
Remove your dog's collar and ID tags when he's crated.
Consider using a harness.
Although we always preach to be sure your Schnauzer is wearing his collar and ID tags, it is important to pay close attention to these warnings and safety tips!


---
Schnauz O Lantern
Instead of making just a regular Jack O Lantern this year, try carving out a Schnauz O Lantern
Get the instructions and template here: Schnauz O Lantern
---
Halloween Schnauzers
Calling all Halloween Schnauzers! Did you take a great picture of your Schnauzer all dressed up in costume for this Halloween? If so, we would love for you to share it with us.
Post your Schnauzer Costume Photos Here!
Check out Sylvia's Miniature Schnauzer as Snow White. Isn't she adorable!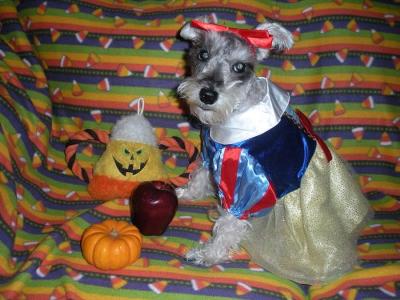 Can't wait to see your cutie!

---
Schnauzer Tributes
Since our last newsletter, a Tribute was written to honor the life of a beloved companion who crossed Rainbow bridge. Please take a few moments to read this tribute and post a kind supportive remark to the owners who must miss their dog terribly.
We also have a Candle Lighting Page, Pet Loss Poems, & a list of Words of Sympathy & Encouragement you can use when sending a Miniature Schnauzer Sympathy e-card.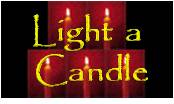 ---
November Events
---
MOST PAW-PULAR ITEM OF THE MONTH
Use the vet of your choice
Covers genetic and breed specific conditions (like hip dysplasia, cherry eye, or luxating patella)
Covers cancer and chemotherapy treatment
Covers Diagnostic testing and imaging (e.g. X-ray, ultrasound, MRI)
Covers hospitalization & emergency room visits
Embrace Pet Insurance plan also allows you to customize your plan. You choose from different limits, deductibles, co-pays, and options to get a premium that you find affordable.

It costs absolutely nothing to get a quote. Just click here: Embrace Pet Insurance Free Quote and fill out some basic information about your dog.



---
Schnauzer of the Month Winner
And the Winner is.......(drumroll pawlease)
Barksdale
Congratulations to Barksdale! Check him out on our home page!
Thanks to all the pups that entered. Every month the judges have such a hard time choosing just one winner. After all, we're all adorable!
So if you didn't win this month try again. You can send in the same photo or if you have another photo you think is better, send it in. Here's how:
Send your favorite Miniature Schnauzer photo for a chance at winning the title of Schnauzer of the Month along with your Schnauzer's photo featured prominently on the front page of Schnauzers Rule website, for thousands to see an Awww over!
Enter the November Schnauzer of the Month Contest
---
Be sure to forward this email to some of your pup pals!
And if you have a dog related website or a pup page out there in the World Wide Web be sure to link to us!

Copy and paste for 'text':


It will look like this:

Everything Miniature Schnauzer - Schnauzers Rule is a complete owner's guide for the Miniature Schnauzer lover and dog enthusiasts. Topics include dog grooming, obedience and trick training, housebreaking, Schnauzer contests, FREE dog eCards, and more! Schnauzers Rule - Got Schnauzer?



Copy and paste for 'banner':




It will look like this:


The most complete Miniature Schnauzer information and care guide online. Schnauzers Rule!



---
On-Going
---
The Editor's Note
The Schnauzer Scoop brings you the latest information from the doggy world. Get The Scoop on pet food recalls, yummy dog recipes, Miniature Schnauzer contests, and more!
And if you have any dog-loving friends (even if they don't own Miniature Schnauzers) they will still benefit from all the dog tips, training lessons, dog safety warnings, and dog news. So be sure to forward this email over to them and let them have a sniff around.
If you are receiving The Schnauzer Scoop because a friend forward it to you - You can continue receiving it monthly by subscribing to it here:
Until next month... I hope you visit us often at Schnauzers Rule!
Arrooo!
Schnauzers-Rule.com - A complete owner's guide for the Miniature Schnauzer owner and dog enthusiasts alike. Got Schnauzer?
http://www.schnauzers-rule.com

---