3rd Quarter Newsletter August 2013

Hi everyone. Here's our 3rd quarter newsletter for 2013. We hope you find the information useful and valuable.

Inside this issue:
• The Story of Schnitzel and the Coyote.
• How writing a tribute can begin the healing process.
• Helping your Schnauzer adjust to back-to-school routine.
• 2014 Mini Schnauzer Calendar.


For those of you belong to social media sites be sure to follow us there too. Here how:

Get Social with us:

---
Schnitzel and the Coyote
Here is a great story we received from Jim C. about his adventurous Miniature Schnauzer named Schnitzel....



Mini Schnauzer Schnitzel and her owner Jim



We live in the high desert country of Southern Arizona. One early morning last February, our 4 year old Mini Schnauzer accompanied me out the front door to retrieve the morning paper, as she usually does. As soon as we stepped foot outside, standing in the front yard was a full-grown coyote! The spooked coyote took off running down the street with Schnitzel right behind it.

I had previously trained Schnitzel to halt in her tracks if we came across a rabbit, but this time my cries of "No! Stop! Come!" went unheeded. I was in my robe and slippers, so was quickly left behind. The two of them disappeared around the corner and out-of-sight.

Our subdivision is surrounded by open desert on three sides, so my worst fear was that Schnitzel would run into a coyote pack, or that the coyote would decide to quit running from a little dog chasing her and turn on Schnitzel. I jumped into my car as fast as I could and began driving all over the area looking for my girl. After a half hour or so, I was resigning myself to never seeing my little Schnitzel again and with a heavy heart, I headed home.

Luckily my story has a happy ending when just as I pulled into the garage, I saw my little Schnitzel waiting for me. She was covered in dirt and full of tumbleweed twigs but no worse for wear. It was surely a happy reunion. I wished she could have told me all about her "coyote caper" but having her back home safe was enough.

Oh, yes, one more thing: Schnitzel doesn't come outside with me anymore in the early morning, unless she is on a leash!


---
A Healing Tribute
After losing her precious Miniature Schnauzer Sasha, owner Anjali quickly realized the power of a tribute.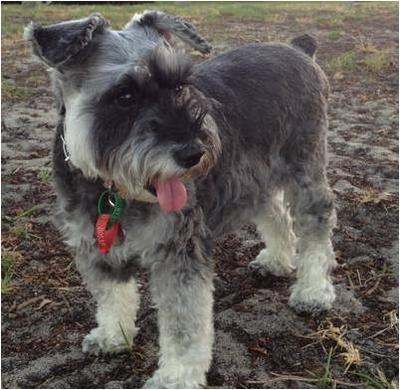 Miniature Schnauzer Sasha

(letter from Anjali)

When all was well, I used to think: "What possible difference can a tribute page make?"

But when I lost my sweet Sasha... I really understood its value.

After losing Sasha, I decided to write a tribute on Schnauzers Rule and post some pictures of her. To my pleasant surprise, so many Mini Schnauzer owners reached out to me and responded with words of encouragement and prayer. Being able to communicate with others who understand the loving bond between a dog and their family and with those who had suffered a loss of their own, really helped me feel better.

Before my tribute I felt so alone and grieved helplessly. Sasha was my baby. I never imagined the day would come where she would leave me... But she was so sick and I was left with a broken heart.

Writing her tribute and receiving so much support has truly been a blessing. Thanks so much (to Schnauzers Rule) for providing an outlet to those of us in so much pain. And I would like to extend a special thank you to everyone who took the time to post a kind remark on Sasha's page.

Sasha's Mom, Anjali

NOTE: If you have lost a beloved Miniature Schnauzer, don't suffer alone. We are here for you. Write a tribute and let the healing begin.


---
Back-to-School Blues
The start of a new school year has many households adjusting to a new schedule and routine. Mornings are all about preparing your kids for a new day at school and then getting off to work yourself. All of this change can be very stressful on your Schnauzer who is now left home alone and missing her family. And if your dog suffers from separation anxiety or emotional stress, she may begin to resort to bad behaviors while you are away from home.

So what can you do to help?

Exercise your dog every morning. Even if that means you must get up earlier in the morning. Your dog will be less likely to be destructive given the chance to have some one-on-one time with you, as well as work off some excess energy.

Provide Entertainment: Leave plenty of interactive toys out for your Schnauzer to play with while you're away. This will help prevent boredom and keep her mentally stimulated. Puzzle toys, and treat toys are particularly good choices to keep a dog busy. Also, some dogs are more comfortable if the TV or radio is left on for them.

Don't make a big fuss. When it's time to leave, just do it. Don't get all emotional with your dog and long goodbyes. If you do, she may sense there's something to be upset about. The same rule applies when you return home. Just calmly greet your dog and let her outside to go potty. Like coming and going is no big deal. Then after a few minutes you can begin showering her with some more love.

Evening routine: Remember your dog has been waiting patiently for her family to return home. And even though you've had a long day at work and the kids have homework to do and you have dinner to prepare... you must make time for your dog. Some backyard play time or a brisk walk with the family is the perfect way to allow your dog to release pent-up energy and you will find it's a great way to unwind from a long day yourself.

NOTE: If you must leave your dog alone for 8 plus hours a day, you might want to consider hiring a pet-sitting service to come by midday to feed and walk your dog or think about taking your dog to doggie daycare.


---
2014 Mini Schnauzer Calendar
And the Winners are.......(drumroll pawlease)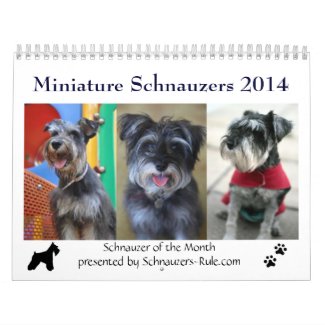 2014 Mini Schnauzer Calendar



Cover Models: Black Sapphire Stella & Rosita
Jan - Pip
Feb - Wickkett
Mar - Miss Missy
Apr – Bertie
May - Puppy Bruno
June – Heidi
July lots of pups (Grady, Bella, Greta, Panzer, Tanner, Makensi Lily & Gracie)
Aug - Angel
Sep - Titus
Oct -Kingston
Nov - Countess Sophie Marie
Dec - Inga

Thanks to all the pups that submitted an entry that made such a beautiful Schnauzer calendar for 2014.

If you would like to enter your dog in our monthly contest and be eligible for our next calendar, submit your very best Miniature Schnauzer photo(s) along with a great story on our contest page.

note: Be sure to read through the official contest rules and guidelines before entering and...

Good Luck!


---
The Editor's Note


The Schnauzer Scoop is a quarterly ezine to update our readers on dog news, updates to our website, along with alerts on pet food recalls, dog tips, and more.

If a friend emailed this issue to you and you would like to continue receiving our monthly ezine, click here to subscribe to The Schnauzer Scoop.

Until next time... I hope you visit us often here at Schnauzers Rule!

Aroo!

Schnauzers-Rule.com - The most complete online guide to owning a healthy and happy Miniature Schnauzer. Got Schnauzer?

---