4th Quarter Newsletter October 2014

Hi everyone. Since National Pet Obesity Awareness Day is celebrated the 2nd Wednesday of October this issue recaps some important tips, statistics, and things you can do to help keep your Miniature Schnauzer from getting fat. We hope you find the information useful and valuable.

Inside this issue:

• Pet Obesity Prevention
• 2015 Miniature Schnauzer Calendar
• Recall Alert: Bravo Foods
• Stories and More

For those of you belong to social media sites be sure to follow us there too. Here how:

Get Social with us:

---
Pet Obesity Prevention
The 2nd Wednesday in October each year is National Pet Obesity Awareness Day. And while a lot of facts are known about excess weight and the increase risks of debilitating diseases, are pets are still fat!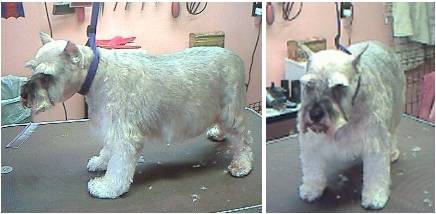 photo courtesy of groomers.net


---

While it may be hard to resist the begging face of your Miniature Schnauzer that's sitting politely in front of you, waiting to be acknowledged with just a bite or two of whatever you're eating, think twice before sharing, especially if your dog is already a little overweight.


An Estimated 52.6% of US Dogs Are Overweight or Obese
"Among all diseases that perplex the veterinary community and plague our population of pets, obesity has the greatest collective negative impact on pet health, and yet it is almost completely avoidable," said Dr. Ernie Ward, veterinarian and founder of *APOP. "The pet industry is mighty and well-meaning, but it's time we stop accepting the status quo. We must start working together to fight obesity through knowledge and action."

Did you know an overweight Miniature Schnauzer has a greater risk of developing debilitating diseases, which can shorten his life span?


Osteoarthritis: the progressive and permanent long-term deterioration of the cartilage surrounding the joints.
Insulin Resistance and Type 2 Diabetes: which occurs when the body is unable to produce sufficient insulin to metabolize food for energy, or when the body's cells fail to utilize insulin properly.
High Blood Pressure: the force of blood pushing against the walls of the arteries as the heart pumps blood. The more pressure the blood exerts on the artery walls, the higher the blood pressure will be. Hypertension may affect many of the dog's body systems, including heart, kidneys, eyes, and the nervous system.
Heart and Respiratory Disease: The accumulation of fat in the chest cavity decreases the dog's ability to breathe and pant adequately. Super dangerous during summer months.
Cranial Cruciate Ligament Injury: Rupture of the CCL is one of the most common reasons for hind limb lameness, pain and subsequent arthritis.
Kidney Disease
Back Problems
Many Forms of Cancer:
Decreased life expectancy (up to 2.5 years)

Please be sure to ask your veterinarian what the ideal body weight should be for your Miniature Schnauzer.

6 Tips to help keep the extra pounds off your dog:
Feed your dog smaller meals just more often. Three small meals a day is great.
Put your dog in another room while you eat your meal. This will prevent you from slipping a morsel to him under the table.
Use healthy, natural treats that are low in calories. Cut up small pieces of apple without the skin (and no seeds) or carrots, for example. See our list of Fruits and Vegetables Safe for Dogs
Count calories. Feed no more than 25 calories per pound a day. That would be 375 calories for a 15 pound Schnauzer.
If your dog needs to lose weight, reduce calorie intake by 20%. Using the example above, that means you would need to cut out 75 calories and feed your dog 300 calories a day, until desired weight is achieved.
Take your dog on a couple of brisk walks daily for 20 – 30 minutes.

IMPORTANT: Always consult with your Schnauzer's vet before changing your dog's diet or starting your dog on a weight loss program.

You should never put your dog on a diet without the assistance of your veterinarian. Your vet will weigh your dog, evaluate his body condition, consider your dog's age, current health status, nutrient needs and then come up with a weight loss plan for you to implement.

National Pet Obesity Awareness Day: October 8, 2014 (2nd Wednesday in October)

* The Association for Pet Obesity Prevention was founded in 2005 by Dr. Ernie Ward with the primary mission of documenting pet obesity levels in the United States to raise awareness of the issue and its negative impact on pets.

Want More Information On Pet Obesity? Copy and paste the URL below:
http://www.petobesityprevention.org/pet-obesity-fact-risks/

---
2015 Miniature Schnauzer Calendar
It's ready! Our 2015 Miniature Schnauzers Calendar is here!

This year's calendar features: Archie, Nora, Riley, Charlie & Lola,Cricket & Xavier, Jumbito, Butch, Hermes, and Ralph, Effie Lou, Bevo & Ellie Mae, Lilly Belle, and Makens, Milo, Jax, Maggie Lou, Stash, and Izzy, Adele & Mason, Titus, Sophie, and Schubert, Grady, Chance, Reggie & Edie, Melanie Ann, Bosco, Sabrina, Banjo & Riley, the Daniels family (Bo, Pearl, Daisy May, and Honey Boo), Tea, Brody, Watson, and Kipper!

Thanks to all the pups that entered our Schnauzer contest which made this calendar possible. If you don't see your Schnauzers name on this year's list, go take some great pictures of your dog including close-up shots, action shots, or pics of him or her just being adorable. Then submit your very best photos along with your dog's story in our upcoming contest:

Mini Schnauzer Contest

note: Winners for October, November and December will be featured in the 2016 calendar.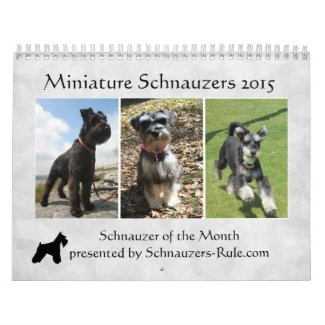 2015 Mini Schnauzer Calendar
---
RECALL ALERT: Bravo is recalling select lots of Bravo Turkey and Chicken pet foods for dogs and cats because they have the potential to be contaminated with Salmonella. Please share info with your pet pals!

Copy and paste the URL below to read all about this important recall:

http://www.bravorawdiet.com/bravonews.html


Share With Us
We love hearing from you and really appreciate your willingness to share your Schnauzer stories, pictures, experiences, knowledge, and inspiration with us. After all, we can all learn from one another.

Here's just a few of our most recent submissions that got people talking...

• Spooky the Schnauzer

• A Tribute to Billy

• Our Boy Charlie



And with Halloween just a few weeks away read our safety tips and share your Halloween story and photos with us too!
---
The Editor's Note


The Schnauzer Scoop is a quarterly ezine to update our readers on dog news, updates to our website, along with alerts on pet food recalls, dog tips, and more.

If a friend emailed this issue to you and you would like to continue receiving our monthly ezine, click here to subscribe to The Schnauzer Scoop.

Until next time... I hope you visit us often here at Schnauzers Rule!

Aroo!

Schnauzers-Rule.com - The most complete online guide to owning a healthy and happy Miniature Schnauzer. Got Schnauzer?

---